This case demonstrates a complete functional and cosmetic solution for underbite correction without traditional jaw surgery.
Patients with underbites have large looking lower jaws, many don't have upper teeth that can be seen when they are speaking, they have TMJ problems, slurry speech and self-confidence issues. Underbite correction is now possible without jaw surgery and without harming the healthy teeth. Patients experience a new sense of confidence with an improved facial profile and smaller looking chin.
Porcelain veneers do not correct underbites and do not improve the facial profile so don't be deceived. This method takes only about 3 initial days with the doctor and 5 days in a row about 3 weeks later. No downtime, no healing time, no pain, no swelling because it is non-invasive dentistry at it's finest.
Large Lower Jaw and the Jaw Surgery Alternative
The skeletal deformity can be corrected without cutting down the size of the lower jaw and this method is far more predictable than jaw surgery and braces. The secret to this method is JawTrac
®
and VENLAY
®
Restorations that provide health benefits of pain relief, speaking problems, personal challenges, cosmetic issues, and TMJ problems.
VENLAY® Biote Restoration offers a new level of underbite correction without jaw surgery as it has far less risk and is much more predictable. Patients have said that "it feels so natural, I don't want to even see my old photos".
Non-Surgical Underbite Correction
She has never felt that she looked attractive because of the shape of her face with the underbite. With under bite correction she said, "I feel like a woman!" Watch this transformation.
Our patients get a new lease on life with their new appearance and health benefits. Many get pain relief from the misaligned jaw while others experience a new feeling of self-confidence. As one person said recently, "I was asked out twice in one day".
Get more information about your treatment choices
Call (310) 829-6796 to schedule a consultation
Reverse the Signs of Aging
"I did not like my smile. Veneers could not do this as my jaw needed to change, not just my teeth. My niece is a patient of Dr. Muslin and the work she had done just blew me away. Face Lift Dentistry® gave me exactly what I need."

- Patient from Ohio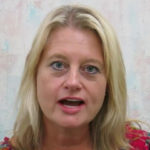 Mouth Collapse Reversed
"For the first time in years I do not have headaches or TMJ pain. I feel younger and happier and get a great response with my smile wherever I go."

- Patient from Idaho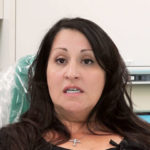 No Other Dentists Could Help
"When I first came here my face was collapsed. I work for a chain of 7 dental offices and not one of the dentists could help me. I'm very happy that I came here. I couldn't be more happy."

- Patient from Los Angeles